Spring Session: April 4 - June 3, 2016
There are 2 classes offered for Primary in this 9 week session (of 2 classes per week).  Please note the new times and time differences.
Class size limit:  10 students
Mondays & Wednesdays (4:10-5:00PM):  April 4 - June 1, 2016 (17 classes: no class 5/30)  COST: $210

Tuesdays & Thursdays (3:30-4:20PM):  April 5 - June 2, 2016 (18 classes)  COST:  $230
CLICK TO REGISTER:


Class information:
Winter/Spring 2016 update:  Look forward to some new and exciting features in our Spanish enrichment program next session. We will be featuring more interactive experiences and utilizing more manipulative materials. The lessons will tap the creativity and curiosity of our children, as we explore the world of science, culture, cooking and many more topics.
I am pleased to announce that MAC will be introducing the Sonrisas Spanish curriculum, which provides an appropriate set of lessons for beginner learners in toddlers through the elementary grades. If you would like to learn more about the Sonsrisas Curriculum, go to: http://www.sonrisasspanishschool.com/curriculum-sonrisas-level-1.html
What methodologies are used in the Sonrisas Spanish Curriculum?
This curriculum incorporates many teaching techniques including;  Total Physical Response, The Natural Approach, Theory of multiple Intelligences, Spanish Literature and Engaging Imagination through the senses. The purpose of this new curriculum, is to expose younger children to the same teaching techniques and methodologies that will be later used in elementary.
How is the Sonrisas Spanish Curriculum taught?
Each lesson in the Sonrisas Spanish Curriculum consists of 3 segments: Circle Time, Story Time and Art Time. These three segments, along with the Greeting at the beginning of class and the Good-Bye at the end, procide a consistent structure and routine for each lesson.
How often do we meet?
The sequence of the Sonrisas lessons is based on a model of Two 60 Minute classes per week.
Why is this curriculum so effective?
Uses repetition, which is critical for language learning. Every Sonrisas lesson includes a communication objective with performance guidelines for achieving the objective.
Every Sonrisas lesson consists of the same structure. Children thrive when they have routine and structure.
Uses Spanish consistently. Spanish is spoken 90% of the time.
Promotes learning through human interaction, rather than using videos, computer programs and audio recordings.
Integrate new concepts and material into already existing cognitive structures. In other words, introducing concepts and in Spanish, that the child has already learned or practiced in English
How do we measure if students are achieving the communication objective for the lesson?
Using and authentic assesment we assess each student's performance either 'meets expectations' or 'exceeds expectations.' A student 'meets expextations' if he or she is able to demonstrate usage of the performance guidelines for the lesson. The purpose of the assesment is to show that a student demonstrates useful and meaningful language skills, as measured by performance guidelines, in order to achieve communication objectives.
How can parents be engaged?
Parents interest and involvement is Spanish class greatly enhances students' language acquisition. Therefore, I have created a website where parents can look at pictures, videos, materials and interesting articles on language learning. I really encourage parents to practice Spanish with your child by playing some of the songs on the website or simply by asking them what they learne in Spanish today!
About Ms. Maricarmen: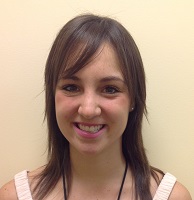 Native Spanish speaker, originally from Coahuila, Mexico.
Graduated from the University of Texas at Austin with a Bachelor's in Bilingual Education and a Bachelor's in Communication and Science Disorders, with an emphasis in Speech and Language Pathology.
Strong background in education, 4 years teaching experience elementary level and 2 years teaching experience with toddlers. 
The challenges and experiences that I have endured by being an English language learner have helped me fuel this passion to share my knowledge with those that want to learn a new language.

My mission is to see students succeed far beyond their imaginations, excel in learning and add more value to their knowledge. I believe that everyone should take the opportunity to learn a new language and be exposed to other cultures.

I am a strong believer that a positive and encouraging communication between the students and the teacher are key to a successful classroom environment.