Spring Session: April 4 - June 3, 2016
There are 2 classes offered for Primary in this 9 week session
Cost per 9 week session of one class per week:  $170 (Fees cover 1lb/class of clay, glaze & underglaze, tools, kiln firing and general know how)
Class size limit:  8 students
Wednesdays (3:30-4:30PM):  April 6 - June 1, 2016

Thursdays (3:30-4:30PM):  April 7 - June 2, 2016
CHOOSE A DAY & CLICK TO REGISTER/PAY:


About this class:
Objective:  Give each child a basic clay education while exploring the fun and exciting world of clay.
Weeks 1 and 2:  Tiles
I will start with the fundamentals of hand building. Each child will "play with clay" to produce tiles. This can be free form or more structured depending on the child's interest. We will be working a lot with texture and repeating patterns during these weeks.
Weeks 3 and 4:  Figures
From the skills learned in the first weeks, the children can make more three dimensional objects. This can be anything from a box with letters to a representation of their parents.
Weeks 5 and 6:  Color
This part of the course with connect the skills of painting to the use of color. We will experiment with primary and secondary colors, mixing pigments and gradations. Each child will work at their own pace of course.
Weeks 7 and 8:  Final combination of skills
We will combine the skills found in weeks 1-6 to make a vessel or multiples of a sculpture (depending of the children's preference of course).
Week 9:  Mosaics
For the last class of the session, everyone will use their imaginations to create pictures in clay using ceramic squares. 
Note:  There lots of extra fun things at the end of class that are ever changing. Some involve air dry clay or take home oven fire clay. If this is a repeat class, the activities will be altered to challenge the individual more.
About Ms. Monica: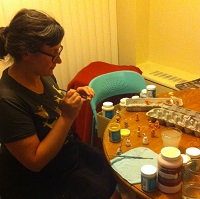 Hello my name is Monica Moonlight.  I am a potter living in Denver, CO.  I have been making various forms of ceramic finery for 10 years now.  I first learned the clay craft at Arapahoe Community College and then transferred to Oregon School of Art and Craft.  I have a home studio which allows me to work while staying home with my son Julius.  I have tried many methods of firing including gas reduction, raku, saw dust, low fire, oven baked, and even unfired.  I have used many different clay bodies and glazes as well.  I make functional vessels as well as figurines.  I have done private and public shows and exhibitions.  The best way to follow my work is through instagram under monicamoonlight.