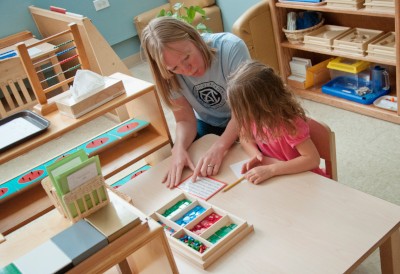 Over a century ago, Dr. Maria Montessori wrote passionately about the importance of teachers in education.  The growth of the child, she observed, was directly related to the quality and preparation of the teacher.  In the past few years, significant research has substantiated her arguments.  Recently, Harvard published a ground breaking study on the value of a good teacher -- in fourth grade, for example, students with a dynamic teacher are more likely to finish high school, less likely to get pregnant before doing so, and found that the student would earn more in his/her lifetime.  In short, teachers are one of the single most influential factors on the outcomes of our children.  
Currently, one of our most important strategic objectives at MAC is to advance the ways in which we hire, grow, and retain our lead and co-teachers.  As you know, our approach to realizing this goal is to ask the teachers themselves to give input about their needs.  Kay Loer, our highly respected former Primary teacher and current Director of Staff and Faculty Development, will lead the Task Force for Teacher Excellence and Retention.  Populated with lead teachers and co-teachers, the Task Force will gather and analyze data, determine measurable objectives, and implement changes to achieve them. 
Areas of growth thus far identified that the Task Force will address include (but are not limited to, as we want to preserve the organic process of collaborative decision making with our teachers): professional development, processes around new teacher orientation and support, forms of compensation, and increasing collaboration across all levels of MAC.  Kay will spend time meeting with individual lead and co-teachers to gather more feedback and invite participation on the Task Force.  The Task Force will then convene regularly over the course of the school year, and we will report back often on their objectives and progress.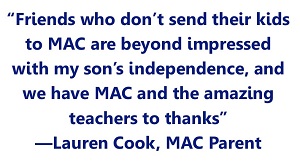 A Few Highlights from the 2015-16 MAC Faculty Survey:
81% of respondents would recommend MAC as a place to work with a rating of 8, 9, or 10 on a scale of 1-10.
The most important aspect of job satisfaction is the school community, followed closely by professional development.
The highest satisfaction score in the survey was faculty interactions with students, with a score of 4.62 on a scale of 1 – 5.