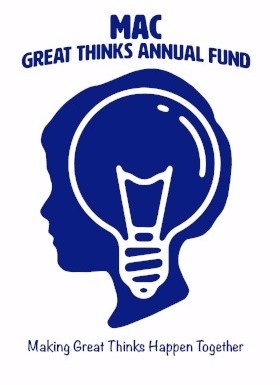 October 6, 2017
Dear MAC Friends and Fellow Families:
Quality education in a safe and nurturing environment has always been important to Chris and me. When exploring education options for our oldest daughter Olivia, we immediately fell in love with the inclusive and kind community of parents, teachers and administration at MAC. Over the last three years, Chris and I have seen great benefits in Olivia's growth and development that we attribute to MAC. We love hearing her share each day the "new work" she is learning at school; she takes pride in her learning and has encouraged Chris and me to maintain a positive attitude when we talk about our own work. We have also noticed a strong development in manners and independence as well as the desire to lead and care for younger children. When re-exploring our options upon the birth of our second child, Owen, we felt like it would be an injustice to not give him the opportunities that Olivia has had at MAC. We are thrilled that he has joined the Nido community.
Additionally, Chris and I feel more confident in our parenting philosophies which have been guided by what we have learned from the teachers in Olivia's classrooms. We have implemented successful home routines that complement the experience Olivia is gaining at MAC. Her teachers provide great communication to help us understand where Olivia is and how she is being guided at MAC. They continually provide us with the tools to be able to support her at home as well. We feel extremely fortunate to have developed such a strong partnership with her teachers and hope to continue to foster these relationships in years to come.
Last year, 88% of our families and staff gave to the Great Thinks Annual Fund-a testament to the spirit of giving that lies at the heart of MAC, a spirit with potential to grow even more. Together, we raised an extraordinary $48,000, exceeding our first campaign goal of $40,000. Funds raised supported our Task Force for Teacher Excellence and Retention and is allowing MAC to send teachers to an American Montessori Society training, provide three paid days of onboarding for new hires, host paid co-teacher meetings with Program Directors, and establish a mentor buddy program between new and existing staff members.
As MAC celebrates its 15th anniversary and launches its second Great Thinks Annual Campaign, please join Chris and me in enhancing the spirit of giving at MAC and further supporting the school and its talented teachers that nurture our children each day. This year's goal is 100% participation and $40,000. No gift is too small, and all are appreciated.
Thank you for your support and commitment to MAC. Together, we will make Great Thinks happen.
Sincerely,
Noelle and Chris Whitestone
Parents of Olivia (Primary Sole) and Owen (Nido 2)