How does giving at MAC work?
MAC plays a significant role in the lives of our families. Like all independent schools, MAC relies on family support—time, treasure, and talent—to provide exceptional student experiences. Participation is the most critical aspect of annual giving as it shows strength in our school community.
Each year, the Great Thinks Annual Campaign takes place in the autumn. MAC looks to our Board members, current parents, and past parents for these essential tax-deductible gifts. The collected funds then support specific strategic needs to improve and stabilize our school.
As MAC celebrates its 15th anniversary and launches its second Great Thinks Annual Campaign, we hope to enhance the spirit of giving at MAC and further advance the school and its talented teachers. This year's goal is 100% participation and $40,000. No gift is too small, and all gifts are appreciated.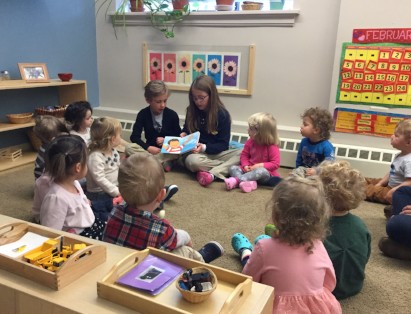 Where do my tuition dollars go?
At MAC, tuition is the revenue that our school must charge per student in order to offset the expenses necessary to run our school. While many established independent schools have endowments, investments, and large gifts that offset the cost of tuition, MAC is a young school that relies solely on tuition and fees for teacher salaries and benefits, Montessori materials, building mortgage and expenses, and state licensing requirements.
MAC hires more teachers than other independent schools without early childhood programs to maintain outstanding student teacher ratios. Thus, our payroll is the largest percentage of our budget. We are thankful to have such a large and incredible staff at MAC.
What does the school expect of us?
We encourage you to become involved through participation in the Great Thinks Annual Fund by giving an amount that is meaningful for your family. You are also encouraged to take part in special events sponsored by the school. All gifts of time and money are important and appreciated.
While tuition dollars cover teacher salaries and benefits, Great Thinks allows us to go above and beyond by helping MAC meet specific strategic needs.
If you are considering a small, one time donation, please consider setting up an automatic monthly charge to your credit card as an alternative. If every family who gave $100 in the past would consider donating $20 on a monthly basis to the Great Thinks Annual Fund it would have a significant and positive impact on the campaign.
Thank you in advance for your support!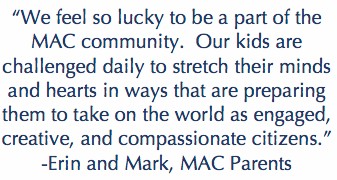 Great Thinks Annual Fund at Work
This is what you are making possible!
American Montessori Society training in March 2018 in Denver for at least ten current co-teachers
Three days of paid onboarding for new staff members, allowing their transition to feel welcoming and systematized
Paid, quarterly, private meetings between co-teachers and Program Directors to provide time for questions and feedback
Staff get-togethers offside to build morale and community in which food and drink are provided
Partner/mentor program in which new staff meet with veteran staff monthly for lunch and peer collaboration