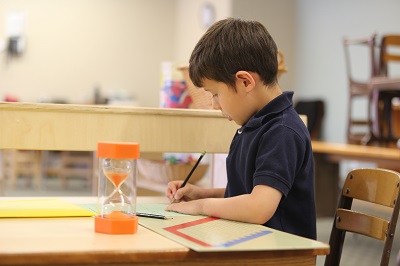 Mathematics
Maria Montessori described the mathematical mind as a universal human attribute. During the Elementary years, a sequence of lessons brings the child naturally and gradually to the point of understanding abstract mathematical operations using specific Montessori Math manipulatives. The structure of the decimal system, the operations of addition, subtraction, multiplication, and division, and other key concepts follow the same pattern. Once the students have a firm understanding of the key concepts, children move towards memorization, keeping track of their progress, and work individually and in teams with ongoing support from the teacher to advance their mathematical skills.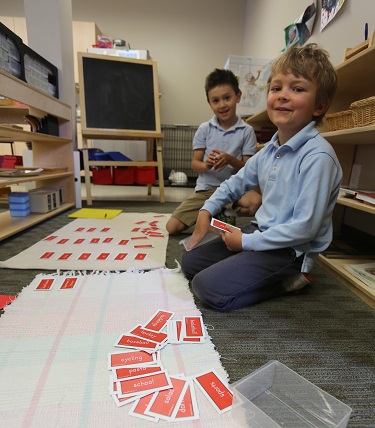 Language
The Elementary child exercises their powers of reasoning and curiosity, learning the fascinating history of language from the distant past to the present. Reading, writing, grammar and spelling skills unfold and blossom through work with materials and activities in all subject areas. Writing develops in connection with explorations, research and experiments, as children want to share what they have discovered through the written word. Creative and reflective writing allows children to acquire valuable tools for self-reflection and self-expression very early in life. Reading for both research and pleasure is a priority and becomes the most important means to foster inquiry and satisfy their interests.
Science and History
The history of life, both before and after the arrival of humankind, is inextricably linked to other disciplines such as geology, geography, and biology. The study of history reveals many fascinating connections and interdependencies, not only among various cultures but also between people and their impact on the changing physical environment. Lessons begin with theories on the origin of the Universe, where principles of physical science are revealed and then proceed to examine the forces that have acted over the ages to shape the world we inhabit. The relationship of earth, sun, seasons, climate zones are also studied, in conjunction with the economic and political landscape.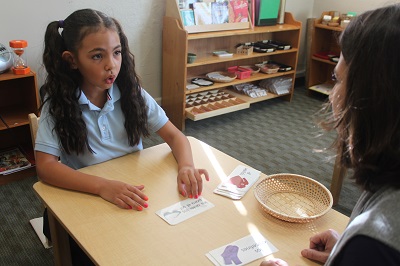 Dual Language
Spanish language acquisition is a key component of our Elementary curriculum. One adult in each classroom is a fluent Spanish speaker, engaging with each student in Spanish. Children conduct class activities and interact with one another using Spanish. Immersion is an highly effective way of learning the language at a young age and helps the children acquire the following language skills:
Ability to follow commands and instruction
Ability to follow a story from a book
Confidence to answer questions in phrases
Ability to read simple books
Confidence to match sentences to pictures
Confidence to perform written word commands
Ability to write down dictated words
Ability to greet and express needs
Ability to comprehend and produce words and phrases
Movement, Technology and the Arts
Children are continuously active throughout the day. Our staff teaches activities such as yoga, soccer, fencing, and basketball emphasizing skill-building and control of movement to enhance physical self-awareness and teach important techniques.
Children use a variety of artistic media to illustrate the work they do in all subjects. They also study and learn about Art History and styles through the art electives. In addition, they are connected with the Denver arts community through our Artist in Residence program which brings professional artists into MAC for a series of 4 to 6 week workshops. Music begins in preschool and continues into Elementary working on the training of the ear with diatonic and chromatic scales and then builds upon these experiences, taking the children into the beginning of reading and writing music. Since art and music are not limited to specific class periods, children's creativity has a chance to flourish as a part of everyday activity.
Students learn communication and performance through iMovie, GarageBand and podcasts, which enhance creativity and confidence. The students also actively participate in ReFrame at Mac, a creative reuse center and maker space program that introduces the children to environmental education through the creative reuse of materials.